New JAGODA Fingerhacke / Cultivateur / Finger Weeder / Deshierbadora cultivator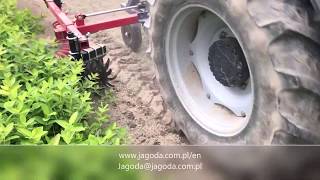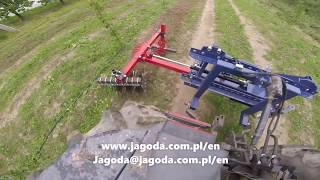 1/25
Model
Fingerhacke / Cultivateur / Finger Weeder / Deshierbadora
Location
Poland
Pamiętna
Description
Required tractor power
20 HP
Overall dimensions
1.5 m × 1.72 m × 1.04 m
Transport dimensions
1.5 m × 2.12 m × 1.04 m
Need delivery?
Calculate the cost of delivery
Orchard finger weeder KLAUDIA is adapted to work in orchards and crops where side weeding is required and it is perfect for vineyards, orchards and berry fields.
- The finger head size is 700 mm and 540 mm with 3 different degrees of hardness (Soft 80º, Medium 85º, Hard 90º), which provides wider coverage of the cultivated soil.
- In addition, a cultivator with discs is placed in front of the cultivating finger head, thanks to which the soil is loosened before the finger weeder will cultivate, which increases the effectiveness of the head's operation.
Easy installation to add 3 or 4 discs for wide cultivating area
- The finger weeder has many features as the hydraulically adjustable width for use in crops with different row widths.
- The machine is mounted on the back of the tractor and it is powered by the tractor's hydraulics for regulating the width.
- Customized machine based on client needs
The machine has a different options by replacing the cultivator and finger weeder and install ALEK cultivator disc.
Version Single-Sided X1
- Min Width (mm) 1 720 mm
- Max Width (mm) 2 120 mm
- No Of Disc Cultivator 2 x 3 x 4
- Finger head Size Ø 700 or Ø 540
- Working Speed Up to 8 - 15 km/h
- Working Height 1040 mm
- Diameter of the disc 425 mm
- Transport Length 1500 mm
- Mounting method (Rear & Front) 3-point Linkage
- Weight 220 kg
EXPORT: ONLY THE NET AMOUNT NEED TO PAID (with valid EU- VAT number)
WORLDWIDE SHIPPING
show contacts
show contacts
Das Hackgerät KLAUDIA ist für die Arbeit in Obstgärten und Kulturen ausgelegt, in denen seitliche Unkrautbekämpfung erforderlich ist. Die eignet sich für Weinberge und Beerenanbau.

-Die Fingerhacke: 700 mm und 350 mm, erhältlich in 3 verschiedenen Härtgraden: (weich 80º, mittel 85º, hart 90º), was eine breitere Abdeckung des bearbeiteten Bodens gewährleistet.

-Zusätzlich wird ein Grubber mit Scheiben vor der Fingerhacke platziert, so dass der Boden gelockert wird, bevor das Unkraut rotiert wird, was die Effektivität erhöht.
Einfache Montage von 3 oder 4 Grubber Scheiben für den breiten Anbau.
-Das Hackgerät hat viele Funktionen, wie z. B. die hydraulische Breitenverstellung für den Einsatz in Kulturen mit unterschiedlichen Reihenbreiten.
Die Maschine ist am Heck des Traktors montiert und wird zur Breitenverstellung von der Traktorhydraulik angetrieben.
Die Maschine ist den Kundenbedürfnissen zugeschnitten und kann 1- und 2-reihig sein.

Version Single-Sided X1

- Min Breite (mm) 1 720 mm
- Max Breite (mm) 2 120 mm
- Anzahl von Rollhacken 2 x 3 x 4
- Fingerhacke Ø 70 oder Ø 54
- Arbeitsgeschwindigkeit Bis zu 8 - 15 km/h
- Arbeitshöhe 104 cm
- Rollhacke 42,5 cm
- Aufhängung Dreipunktaufhängung
- Gewicht 220 kg
Deshierbadora KLAUDIA
Deshierbadora KLAUDIA está diseñada para la destrucción mecánica de malezas en huertos y cultivos donde se requiere deshierbe lateral. Es perfecto para viñedos, huertos y plantaciones de frutos rojos

El diámetro de la estrella de deshierbe es de 700 mm y 540 mm lo que proporciona una cobertura más amplia del suelo labrado. La estrella de deshierbe está disponible en tres grados de dureza: Suave 80º , Medio 85º , Duro 90º

X1 unilateral

- Ancho mínimo (cm) 1720 mm
- Ancho máximo (cm) 2120 mm
- Número de discos dentados 2 x 3 x 4
- Diámetro de los dedos de plástico Ø 700 o Ø 540
- Velocidad de trabajo hasta 8-15 km / h
- Altura de trabajo 1040 mm
- Diámetro del disco 425 mm
- Longitud de transporte 1500 mm
- Modo de enganche
- enganche de 3 puntos
- Peso 220 kg
BINEUSE A DOIGTS KLAUDIA / Cultivateur de verger KLAUDIA

La bineuse à doigts KLAUDIA est adaptée pour travailler dans les vergers et les cultures où le désherbage latéral est necessaire. La machine est parfaite pour les vignobles, les vergers et les cultures de baies.

 Le diamètre des doigts plastiques est de 700 mm et 540 mm. Les doigts plastiques peuvent être produits en 3 degrés de dureté (doux 80 °, moyen 85 °, dur 90 °), ce qui permet de travailler différents types de sol.

 Des disques à dents sont placés devant les doigts plastiques pour ameublir le sol avant que la mauvaise herbe ne soit rejetée, ce qui augmente l'efficacité du désherbage. Pour les zones de culture plus larges, 3 ou 4 disques à dents peuvent être montés.

 Grâce à la fonction de réglage hydraulique de la largeur de travail, la bineuse à doigts KLAUDIA peut être utilisée dans des cultures de différents espacements de rangs.
- L'appareil est monté sur l'attelage 3 points à l'avant ou à l'arrière du tracteur et est alimenté par l'hydraulique du tracteur.
- Il est possible de configurer la bineuse selon les souhaits du client.

Version A un rang X1

- Largeur minimale (cm) 1 720 mm
- Largeur maximale (cm) 2 120 mm
- Nombre de disques à dents 2 x 3 x 4
- Diamètre des doigts plastiques Ø 700 or Ø 540
- Vitesse de travail Jusqu'à 8 - 15 km/h
- Hauteur de travail 1040 mm
- Diamètre du disque 425 mm
- Longueur de transport 1500 mm
- Mode d'attelage
- Attelage 3 points
- Poids 220 kg
La sarchiatrice a dita KLAUDIA è stata progettata per il diserbo meccanico veloce e efficiente nei vigneti, frutteti e nelle colture biologiche dov'è richiesto il diserbo laterale.
Il diametro delle dite di gomma è di 700 mm. Le dite di gomma sono disponibili in 3 gradi di durezza: morbido 80º, medio 85º, duro 90º a seconda della durezza del terreno.
Per allentare il terreno prima di rimuovere le erbacce la sarchitrice a dita KLAUDIA è dotata dei dischi per diserbo meccanico. Si possono montare 2, 3 o 4 dischi a seconda della larghezza di lavoro che si vuole ottenere.
- La sarchiatrice KLAUDIA può essere applicata unilateralmente o bilateralmente.
- Il veloce adattamento alle caratteristiche del lavoro da compiere nelle colture di diverse larghezze di fila è possibile grazie alla regolazione idraulica della larghezza di lavoro.
- La sarchiatrice KLAUDIA viene prodotta in 2 versioni (per fila stretta e per fila larga) e la larghezza di lavoro varia da 1,6 m (1 fila) a 3,5 m (2 file).
- La sarchiatrice KLAUDIA è montata nella parte posteriore o anteriore del trattore con attacco a tre punti ed è azionata dal sistema idraulico del trattore per la regolazione della larghezza di lavoro.
- La sarchiatrice a dita KLAUDIA può essere configurata secondo la richiesta del cliente.
Versione Single-Sided X1
- Larghezza minima (mm) 1 720 mm
- Larghezza massima (mm) 2120 mm
- No del coltivatore a disco 2 x 3 x 4
- Dimensione della testa del dito Ø 700 o Ø 540
- Velocità di lavoro fino a 8-15 km / h
- Altezza di lavoro 1040 mm
- Diametro del disco 425 mm
- Lunghezza di trasporto 1500 mm
- Metodo di montaggio (anteriore e posteriore) Attacco a 3 punti
- Peso 220 kg
ESPORTAZIONE: DA PAGARE SOLO L'IMPORTO NETTO (con partita IVA UE valida)
SPEDIZIONE IN TUTTO IL MONDO
show contacts
show contacts
Pielnik sadowniczy KLAUDIA jest przeznaczony do pracy w sadach i uprawach, gdzie wymagane jest pielenie boczne. Doskonale sprawdza się w winnicach, sadach i plantacjach owoców jagodowych.

 Średnica gwiazdy pielącej wynosi 700 mm, 540 mm i dostępna jest w 3 stopniach twardości: Miękki 80º, Średni 85º, Twardy 90º, co zapewnia szersze zastosowanie w zależności od rodzaju gleby.
 Przed gwiazdą pielnika umieszczony jest kultywator z talerzami, dzięki czemu gleba jest spulchniana przed odrzuceniem chwastu, co zwiększa skuteczność pielenia. W przypadku szerszych obszarów uprawy istnieje możliwość montażu 3 lub 4 talerzy kultywatora.

 Dzięki funkcji hydraulicznego regulowania szerokości, pielnik sadowniczy KLAUDIA może być stosowany w uprawach o różnych szerokościach rzędów.
- Urządzenie mocowane jest na trzypunktowym układzie zawieszenia z przodu lub z tyłu ciągnika i jest zasilane z hydrauliki ciągnika.
- Istnieje możliwość konfiguracji pielnika zgodnie z życzeniem klienta.


Wersja Jednostronna X1

- Min Szerokość (mm) 1 720 mm
- Max Szerokość (mm) 2 120 mm
- Ilość talerzy kultywatora 2 x 3 x 4
- Rozmiar głowicy pielącej Ø 70 oder Ø 54
- Prędkość robocza do 8 - 15 km/godz.
- Wysokość (mm) 1040 mm
- Średnica talerza (mm) 425 mm
- Długość transportowa (mm) 1500 mm
- Sposób mocowania (Tył i przód) Trzypunktowy układ zawieszenia
- Waga (kg) 220 kg
Садовый пальчиковый культиватор

Садовый пальчиковый культиватор KLAUDIA предназначен для боковой прополки ряда, взрыхляет землю и удаляет сорняки. Идеально подходит для виноградников, садов и ягодников.

 Размер солнышка (рабочая головка культиватора)
составляет 540 или 700 мм с 3 различными степенями твердости (мягкий 80º, средний 85º, жесткий 90º), для прополки различных типов почв.

 Перед солнышком устанавлен культиватор с
дисками для рыхления почвы, это увеличивает эффективность работы полольника. Есть возможность установки на оборудование 2, 3 или 4 диска акультиватора

 Пальцевый культиватор имеет множество функций, в том числе гидравлически регулируемую ширину для работы с культурами с различной шириной ряда.
- Машина установлена на задней части трактора и приводится в действие c помощью внутренней гидравлики.
- Культиватор может быть укомплектован в соответствии с потребностями клиента

Версии Однорядная X1

- Минимальная ширина 172 cm
- Максимальная ширина 212 cm
- Количество дисков на культиваторе 2 x 3 x 4
- Размер солнышка Ø 54-70
- Рабочая скорость 8 – 15 км/час
- Рабочая высота 104 см
- Диаметр диска культиватора 42,5 см
- Транспортная длина 150 см
- Крепление 3-точечная навеска
- Масса 220 кг
Important
This offer is for guidance only. Please request more precise information from the seller.
Safety tips
Seller's contacts
JAGODA JPS
Languages:
English, Ukrainian, Russian, Polish, Italian, German, French, Arabic
Poland, Lodzinskie, Pamiętna, 96-100
Seller's local time: 05:20 am (CEST)
Selling machinery or vehicles?
You can do it with us!